[ Home ]
[ About | Reviews | Search | Submit | Links ]
---
Anita Bell has several best-selling investment books under her belt and has written many short stories and conducts financial seminars in Australia, but she has turned her hand to thrillers for young people, and THE CRYSTAL COFFIN was one of her first.
Horses are being led to slaughter. Protesters are trying to prevent this from happening. A young man, while attempting to rescue his favorite stallion from the abattoir, inadvertently frees many of the horses. In the confusion, he escapes and returns to what was, until recently, his home farm.
Jayson Locklin is a 19 year old soldier in the Australian Army, who has just witnessed horrific atrocities in the UN "Police Action" in East Timor. He hitches a ride on an airplane back to Australia to try and find out why his father committed suicide only a few weeks before, and is the young man who rescues his horse.
The year before, Jayson's neighbor was also found hanging in the same boathouse. Jayson thinks that it is too much of a coincidence that both men, previously sane and happy, commit suicide in the same way in the same place. He has to prove that it was murder, so he can reclaim his inheritance.
Jayson is no longer the young innocent he was the year before. He is now a true warrior. He had seen some large crates being loaded on a plane headed for his home region, and he recognized some of the men doing the loading. He had managed to get into one of the crates and finds a crystal jewel box in the shape of a coffin containing a pair of earrings in the shape of angels, and an empty slot where another piece had been.
He meets a girl whose mother has just been murdered. She is wearing the angel pendant missing from the box. Although suspicious of each other, they eventually join forces and solve the crime. And the top brass shield Jayson from AWOL charges.
This is an exciting book aimed at the secondary school pupil, probably in the 15-18 year range, but kids who are not from the Pacific Rim area will need to look up East Timor and the role of the Australian army and the UN in attempting to "stabilize" the area.
This book can be purchased directly from the authorl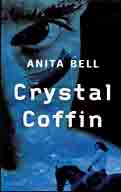 Reviewed by Barbara Franchi, September 2003
[ Top ]
---
QUICK SEARCH:
Contact: Yvonne Klein (ymk@reviewingtheevidence.com)
---
[ About | Reviews | Search | Submit | Links ]
[ Home ]