[ Home ]
[ About | Reviews | Search | Submit ]
---
Claire Fleetwood is the product of two hippie parents who wandered across the United States taking Claire and her brother Robin on their aimless wanderings. Deserted by her British born father, Claire decided to investigate the English half of her heritage. In London she learns that she has inherited the property known as "Eden Dwellings" in London's East End, from Alexandra Ironstone, an aunt of her father's. Claire's father never told his children anything about his family, so the inheritance is a shock to Claire.
Claire makes friends with Sally, whose family lives in one of the properties. Sally's drunken father is known as the caretaker, but in truth, he does very little. Sally is responsible for maintaining the gardens.
Claire finds she is obsessed with the house and its previous occupants, and spends hours reading the journals of Magda, the colorful and unusual woman who was the original owner of the property in the 1880's.
Sally is killed in the street outside of the garden gate. Sally's father, no better than a criminal himself, has alluded to Claire that their family has connections to hers that go back many years. Realizing that her new life is no less uncertain than her old one leads Claire to agree to go on an expedition being set up by a new-found cousin to Tibet. A forensic photographer, Claire agrees to be the photographer for the expedition. In reality she wants to retrace the steps of Magda from the journals in her possession.
Not much of a traditional mystery, the story is a long and convoluted telling of their journey into Tibet searching for the elusive green poppy coveted by pharmaceutical companies for its possible benefits in cancer research. Claire learns that her cousin, Jack, is a charming con man with darker motives for undertaking the expedition. The story switches back and forth from Magda's journals to Claire's diaries of the trip.
In the acknowledgements, the author alludes to various real life people and incidents that contributed to her ideas for the book. There are many references to plants, botany, bones, and even mysticism as the travelers traverse some of the wildest landscapes on Earth. It is high adventure indeed, but get out the old biology text book and have the dictionary handy before you settle down to these densely packed pages.
Note; This review is based on the UK edition. ISBN: 0297645803, published by
Weidenfeld & Nicholson in August of 2000. Price is £12.99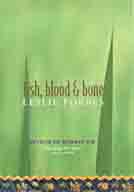 Reviewed by Lorraine Gelly, March 2003
[ Top ]
---
QUICK SEARCH:
Contact: Yvonne Klein (ymk@reviewingtheevidence.com)
---
[ About | Reviews | Search | Submit ]
[ Home ]