[ Home ]
[ About | Reviews | Search | Submit ]
---
American author Harlan Coben had his first Myron Bolitar novel, Deal Breaker, released in 1995. Between then and 2000 Myron appeared another six times in Drop Shot, Fade Away, Back Spin, One False Move, The Final Detail and Darkest Fear, originally published in 2000 but only now released in Australia. In addition to his Bolitar series, Coben has written two stand alone novels, Tell No One and Gone For Good. Coben is immensely popular in America - he has won the Edgar Award, Shamus Award and Anthony Award, an unprecedented feat. Apart from these proofs of his popularity he has won other awards and been shortlisted for yet more. Thus he seems to be an embodiment of American taste in mystery fiction.
The character of Myron Bolitar, the sports agent, was originally, so Coben has been known to admit, based on the author himself, although as the protagonist's life and circumstance diverged from the author's, so did his personality. Bolitar's business associate, Win, a coldly calculating psychotpathic (to use the author's description) personality, was similarly inspired by a real life person, the writer's college room mate. Not the sort of person I would have liked to room with had I ever gone to an American college!
The main theme of Darkest Fear is father love. The book opens with Myron visiting his parents and being told by his lawyer mother that his father has suffered a heart attack, although the father refers only to 'chest pains'. Myron is therefore forced to reflect on his role as a son and the loving relationship he has with his father. Shortly thereafter, a former girlfriend of his youthful years, a woman who betrayed him when he thought to marry her, yet slept with him the night before she married another basketball star, approaches him to beg his help in locating a bone marrow donor for her son who suffers from a fatal disease known as Fanconi Anaemia. Myron wishes to refuse - for one thing, Emily's now ex-husband was responsible for the injury that ruined Bolitar's own chances at a successful professional career, and for another, he had been too deeply hurt by Emily's treachery - but the woman goes on to tell him that her son, Jeremy is, in fact, of Myron's own begetting.
Inevitably the sports agent agrees to trace the one suitable bone marrow potential donor who had been discovered. The donor has, however, disappeared mysteriously and has no real history to trace. Then Myron links him to a wealthy family and becomes involved with a disgraced journalist accused of plagiarism. The tangled tale of FBI involvement in nasty kidnapping/murders further complicates Myrn's life. Bolitar's endeavours to locate the mystery donor gives his friend Win ample opportunity to demonstrate his capacity for taking pleasure in conscienceless cruelty. To balance that, there is the inevitable, overstated, sentimentality involved in Bolitar's sudden rush of inexplicable father love when he encounters his biological son. Bolitar's investigation is told against the backdrop of his failing sports agency as well as using light relief from his former wrestler associate Esperanza and muscle supplied by one-time employee, massive transvestite Big Cyndi, as a foil to the drama.
Coben writes in what I would categorise as a special sub-genre of Slick Smart Alecky Suspense. Many readers enjoy this type of prose - as witnesseth the many awards won by Bolitar's creator. This tale carries Coben's trademark humour as well as a convoluted and circuitous plot (with a contrived twist at the end) told with a maximum of words - vastly different from the lean style of writing of, say Ian Rankin, who makes the most of every carefully thought out word. Perhaps it is a case of different cultures producing different styles of writing. Despite the disparity between styles, it is altogether possible that the audience of the one author might find appeal in the writing of the other. The fact that this narrative transgresses by allowing sentiment to become sentimentality and drama to degenerate into melodrama, does not give a reason to suspect a diminution of Coben's popularity here in Australia any more than there was in the U.S. with the release of Darkest Fear.
Note: This is a review of the Australian edition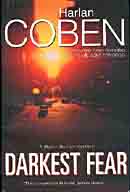 , published by Orion, January 10, 2003.
Reviewed by Denise Wels, January 2003
[ Top ]
---
QUICK SEARCH:
Contact: Yvonne Klein (ymk@reviewingtheevidence.com)
---
[ About | Reviews | Search | Submit ]
[ Home ]