[ Home ]
[ About | Reviews | Search | Submit | Links ]
---
Detective Chief Inspector Judy Hill has managed to put off her nuptials once again, this time by giving birth to Charlotte Frances Lloyd. DCI Lloyd, her partner, is just waiting for his early retirement so Hill can go back to work while he takes care of the new addition. Another new mother, who has also given birth to a girl, is sharing the room with Hill.
A very disturbed teen had given evidence that imprisoned Dean Fletcher as a pedophile, but Dean still has feelings for Kayleigh and considers everything that happened a mistake. He spends his time in jail philosophically.
Kayleigh's mother, Leslie, who has recently taken a new lover, Ian, makes plans to emigrate to Australia. She has no plans to tell Phil Roddam, her previous lover, the man her daughter, Kayleigh, thinks of as her father, about the move. But meanwhile, Leslie moves house, as she does every few months, to a cottage Ian partly owns with his ex-lover. But on the day of the move, Leslie is battered to death in the cottage.
At the same time, Hill and Tom Finch are walking in the park when a baby disappears. The baby-sitter claims to have gone to the car for her mobile phone, just leaving the child for a few minutes. But the child is gone. It is the child of the woman who had been sharing a room with Hill.
This is the 12th Hill and Lloyd book. The first one, A PERFECT MATCH, appeared in 1983. The series has lost none of its appeal. McGown keeps a cadre of regulars whose lives we can follow but keeps changing their situations. Finch is studying for the Inspector's exam, Lloyd and Hill are both DCIs, and the upcoming reorganization of their division will change their plans for a quiet future.
As is common with British imports, the title of this was changed from BIRTHS, DEATHS, MARRIAGES to DEATH IN THE FAMILY for the US edition. The reasoning behind the change escapes me.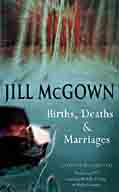 Reviewed by Barbara Franchi, December 2002
[ Top ]
---
QUICK SEARCH:
Contact: Yvonne Klein (ymk@reviewingtheevidence.com)
---
[ About | Reviews | Search | Submit | Links ]
[ Home ]