[ Home ]
[ About | Reviews | Search | Submit ]
---
Mark Roper, a young Park Ranger on his first solo patrol, sees an abandoned rental mountain bike lying in an area where bikers are not allowed. He cares greatly for the Peak District National Park and he is a bit annoyed that someone would not only ride a bike where it were not allowed. but also that the person would abandon it in the area.
He's a bit concerned because he hasn't been able to contact the Area Ranger, his immediate superior, Owen Fox, but he has been brought up in these parts, so he continues his patrol, picking up detritus left by unthinking hikers, and enjoying the work, until he comes across the body of a young woman lying in the middle of the stone circle known as the Nine Virgins. Jennie Weston, the cyclist, had been stabbed through the heart and her limbs arranged in peculiar positions
DC Ben Cooper's partner, Todd Weenink is unexpectedly called away. Ben is a bit put out, since he is the one with the local knowledge, so he goes up to the crime scene by himself, and he wonders if he had been left out because of the return of Diane Fry to the area. Acting Detective Sergent Diane Fry is given the job of trying to interview Maggie Crew, who had been found near the Nine Virgins several weeks before, by the wife of a local farmer, with her face badly slashed. Maggie, a successful attorney, has become a recluse, claimng amnesia, since the attack.
The characters come alive through their interactions. The events in Black Dog are related sparingly, and if you haven't read the previous book, you will not notice them. Owen Fox wears a red jacket but is otherwise very grey. Ben is tall and dark haired but not as large as either his brother or his partner, Todd. Fry is thin and tired. Fry lives in a ratty flat, because she doesn't really care about her surroundings. Ben lives at home, at the farm, with his brother and sister in law, their children, and his schizophrenic mother, because he has a very strong sense of responsibility which is what helps to make him a good policeman, perhaps better than his dead father.
This is a complex tale with the murder apparently causing several people's lives to change irrevocably and Booth, by starting his characters as young coppers, has left much room for them to grow.
The British paperback cover is really much more striking than the US one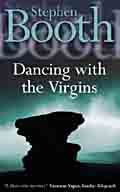 Reviewed by Barbara Franchi, September 2002
This book has more than one review. Click here to show all.
[ Top ]
---
QUICK SEARCH:
Contact: Yvonne Klein (ymk@reviewingtheevidence.com)
---
[ About | Reviews | Search | Submit ]
[ Home ]