[ Home ]
[ About | Reviews | Search | Submit | Links | Miscellany ]
---
A new year has begun in Edendale, the Peak District is covered in several feet of pure white fresh snow, and the local police are snowed-under in more ways than one. There's been an assault in the town centre, several persons are missing, traffic is in chaos, they're short staffed, and they have a new DCI to break in. On top of all that Diane Fry has a new assistant and a singing crustacean making her life a misery, and Ben Cooper has a smelly prisoner and a wet sock! Oh yes - and there's a couple of dead bodies on Irontongue Hill, just to make life really interesting.
Complex plots have been a feature of the previous two Edendale books, and Blood on the Tongue is no exception. The Peak District was the site of many aircraft crashes in WWII, including one on Irontongue Hill early in 1945. 57 years later a descendant of the pilot arrives in Edendale determined to clear her grandfather's name, and sets off a chain of events that will affect many lives. There are crimes, both past and present, to be investigated, and an old mystery to be solved - the mystery surrounding Sugar Uncle Victor, the doomed Lancaster bomber, the remains of which are still perched on top of Irontongue Hill, and the pilot who disappeared never to be seen again.
I find Stephen Booth's pacing to be exquisite and very atmospheric, even while convincingly portraying hectic police activity he still manages to evoke the gentler pace of life in rural Derbyshire. There's plenty of time to stop and smell the flowers, or more accurately in this case, to admire the snow shrouded landscapes. An atmosphere is slowly created, and builds to the point where the pages start to fly by, proving that you don't need continuous action to produce an intelligent page-turner.
With so much going on in the plot can there be time for character development? Yes there certainly can! DC Ben Cooper and DS Diane Fry, the two main protagonists, are opposites in almost every way, which creates a palpable tension throughout, and leads to some wonderfully subtle dialogue. Ben is the local boy, the son of a police sergeant who was killed on duty, and liked by almost everyone. Diane is the outsider, distrusted by the locals, the urban girl who prefers asphalt and cement, but was forced to leave the city in traumatic circumstances. Ben is the intuitive detective, Diane goes by-the-book, and together the two complement each other, if only they could learn to co-operate. There's a great depth to these two characters, and their relationship grows with each book.
Additional police characters are mostly sketched in as needed, but Gavin, Diane's new assistant provides some comic relief, and shows a lot of promise. The cast of suspects and witnesses is quite large, and there are a lot of people with shadowy pasts that they want to keep hidden, all contributing to the atmospheric nature of the book. I found all the characters to be well defined, and easy to keep track of, something that doesn't often happen in a book with this much complexity.
The only minor fault that I could find with Blood on the Tongue was the ending, although it's a personal preference, and anyone who likes very complex explanations will probably love it. There are plenty of surprises in store and the various plot threads are certainly tied up quite neatly in the last few chapters, almost too neatly for my liking. There's nothing tangible that I can point to, I just felt that a bit too much was packed in to too few pages, and I prefer multiple revelations to be spread out a bit more.
Blood on the Tongue is an excellent book, a worthy addition to the best British procedural series of the new millennium. It stands well on it's own, but I urge you to read 'Black Dog' and 'Dancing With the Virgins' first. Make sure that you leave plenty of time to smell the flowers though, and don't be in too much of a rush to find out about that singing crustacean and the wet sock. :-)
Stephen Booth has a web site at http://www.stephen-booth.com/
Note : this review is based on the British trade paperback edition published in April 2002.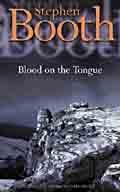 Reviewed by Paul Richmond, August 2002
This book has more than one review. Click here to show all.
[ Top ]
---
QUICK SEARCH:
Contact: Linda Wilson (ljw@reviewingtheevidence.com), Yvonne Klein (ymk@reviewingtheevidence.com)
---
[ About | Reviews | Search | Submit | Links | Miscellany ]
[ Home ]