[ Home ]
[ About | Reviews | Search | Submit ]
---
Ruth Rendell did not write her first book› From Doon With Death, the first Inspector Wexford novel until the early sixties, when she was 33. Since then, this exceptionally prolific author, writing both under her own name and the nom-de-plume of Barbara Vine has produced many novels and short stories, winning the Crime Writers' Association Gold Dagger for A Demon in my View, an Edgar in 1984 for the best short story, The New Girl the Crime Writers' Association Cartier Diamond Dagger for outstanding contribution to the genre, a Gold Dagger award for Live Flesh and the Sunday Times Literary award in addition to other literary prizes. She has an Honorary Doctorate from the University of Essex, was awarded the CBE. and is a life peer. Some of her later work includes Harm Done, A Sight for Sore Eyes , Road Rage ,The Keys to the Street and the anthology Piranha to Scurfy.
Rendell is immensely popular not only with readers but also with television audiences although she does not write any of the small screen adaptations of her Inspector Wexford episodes. This book, Adam and Eve and Pinch Me› will only reinforce this outstanding writer's reputation.
Chapter One finds Minty arriving home and seeing the ghost of her dead lover, known to her as Jock Lewis, sitting in a chair. Minty had received a letter, ostensibly from Great Western, telling her that Jock had died in the Paddington rail crash. While the ghost disappears, the seat where he was sitting feels warm to Minty's exploring fingers. It soon becomes apparent that Minty is obsessive compulsive as well as schizophrenic. She is not overly bright, either.
Minty is obsessed with cleanliness and bathes at least twice a day. Appropriately, she works in a dry cleaning shop and has done so since she was eighteen, twenty years previously. She keeps her house scrupulously clean. The house was left to her by Auntie, Winifred Knox. Minty was abandoned when a baby into Auntie's care. Not only is Minty obsessively concerned with external purity, she will eat only what she considers 'clean' food (not to be confused with kosher food, some of which she would consider 'dirty'.
Minty's neighbours know that the girl is strange. Sonovia and policeman Laf Wilson would have doubted the existence of Jock, who had picked Minty up in a pub and whom they had never seen, but they had noticed his old 'boneshaker' parked out in the street. They did realise that the letter Minty received could not have been authentic and wondered if Jock had, perhaps, defrauded Minty of money then moved on to pastures new, which, indeed, he had.
Jock had several aliases but was known to his wife Zillah as Jerry, a corruption of Jeffrey, Leach, his true name. She had been deserted by him, leaving her with a three-year old son Jordan and seven year-old daughter Eugenie. Zillah lives in dreadful poverty as she attempts to support herself and the children with no help at all from Jerry. She, too, receives a letter from Great Western informing her of her husband's death but being rather brighter than Minty realises it is just Jerry's way of telling her he has gone out of her life and will not interfere in her future.
Fiona knows Jerry as Jeff Leigh. She is his ideal woman, being wealthy and having a good job as a banker. He moves in with her after becoming the great love of her life and cuts all ties with his former women, of whom there were many. Fiona's neighbours, Matthew and Michelle Jarvey are both afflicted with eating disorders, Matthew finding an increasing distaste for food with a particular appearance and rapidly becoming skeletal while Michelle has become a compulsive eater and therefore obscenely fat. Fiona has helped them deal with Matthew's affliction in a small way and the pair feel greatly indebted to her and attempt to make Fiona understand that they perceive Jeff to be a con man.
As Minty's schizophrenia becomes worse, Jock's phantom follows her to work and even to the movies. Auntie's ghost, to whom Minty had prayed since her death, has begun also to haunt her . One day, Minty inadvertently discovers that she is able to banish Jock's ghost by stabbing him, albeit with a blunt knife. When the ghost eventually reappears, Minty takes to strapping a sharp knife under her clothing, convinced that with this she will be able to rid herself completely of her persecutor.
Zillah, in the meantime, has received a proposition from her lifetime friend James (Jims) Melcombe-Smith, a young, gay Tory MP who is in danger of being 'outed'. He decides it would be advantageous for both of them should Zillah marry him. Zillah lets him believe that she is divorced and that her husband is dead. After Zillah and Jims are married, the fantasy of the dead husband becomes a reality and police step in to investigate Jeffrey Leach's death.
Michelle and Matthew have reason to dislike Jeff intensely. Not only has he duped their friend Fiona, his constant gibes at the two about their relative weights make them severely uncomfortable. Soon they become suspects in Jeff's murder.
Like all Rendell's work, this book is very dark with particularly discomfiting themes. The idea of Leach's callous cruelty and total dishonesty is unsettling but even more so is the notion that long friendships can be easily destroyed by circumstance. There are a number of admirable people characteriseed in this book. Rendell's characterisations are always believable and she has the knack of making her reader care for their fates. We can even feel great sympathy and understanding for the murderer. The plot is immensely gripping right from the first page until its ultimate resolution. Ruth Rendell's mastery never flags.
Editor's Note: This is a review of the UK edition from Hutchinson London, published on September 7 2001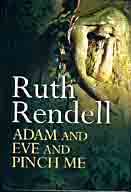 Reviewed by Denise Wels, August 2002
[ Top ]
---
QUICK SEARCH:
Contact: Yvonne Klein (ymk@reviewingtheevidence.com)
---
[ About | Reviews | Search | Submit ]
[ Home ]