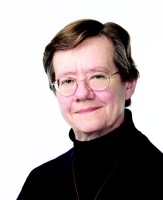 Sixty seconds with Priscilla Royal...

Priscilla Royal, author of fourteen books in the Medieval Mysteries series, grew up in British Columbia and earned a BA in World Literature at San Francisco State University where she discovered the beauty of medieval literature. Before retiring from the federal government in 2000, she worked in a variety of jobs, all of which provided an education in the complexity of human experience and motivation. She is a theater fan as well as a reader of history, mystery, and fiction of lesser violence. When not hiding in the thirteenth century, she lives in Northern California and is a member of California Writers Club, Mystery Writers of America, and Sisters in Crime. www.priscillaroyal.com

---

RTE: Describe yourself in a sentence?

Royal: A curmudgeon with a sense of humor who is also a contrarian but otherwise quite harmless.


RTE: What's the one record you'd take to a desert island?

Royal: Charles Mingus, The Black Saint and the Sinner Lady.


RTE: What did you want to be when you were growing up?

Royal: Writer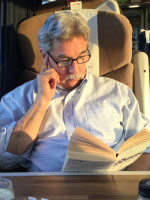 Sixty seconds with Bill Rapp...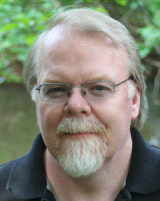 Sixty seconds with Spencer Kope...

Home | About | Reviews | Search | Submit | Links | Cons | Subscribe

---
July 28 2018


Heat wave, you say? Beach read? Something cool would be nice. Well, we can start off with a pair of thrillers by two dependable writers. Anne Corey reviews Linwood Barclay's latest, A NOISE DOWNSTAIRS, which she says is both engrossing and enjoyably creepy. She also enjoyed Daniel Silva's THE OTHER WOMAN, and liked it very much as well, not least because it sheds light on some recent events.

If, on the other hand, you'd like something a bit less tension-inducing, Barbara Fister enjoyed John Straley's BABY'S FIRST FELONY, calling it "a big-hearted book and a wild ride." It's funny, too, as is Patrick Hasburgh's PIRATA, and Susan Hoover says she would recommend this "part thriller, part family saga" to anyone, whether they care much about surfing or not.

Peng Shepherd's debut, THE BOOK OF M is a dystopia, a sub-genre not often recommended as a diverting summer read. But Katie Voss says this is a "post-apocalyptic world we've never seen or dreamed of before," one that lovers of "science fiction, fantasy, mystery, philosophy, adventure, and romance will cherish."

Nor do we frequently think of non-fiction as offering the same sort of attractions as fictional story-telling. But CONAN DOYLE FOR THE DEFENSE, by Margalit Fox, retired senior obituary writer at the New York Times may be an exception. In her account of Conan Doyle's pursuit of justice in a case of wrongful conviction that had parallels to the Dreyfus case in France, she has produced what Rebecca Nesvet calls a "non-fiction thriller," one that is, in its contemporary implications, "more frightening than THE HOUND OF THE BASKERVILLES."

We often look forward to a bit of time off to catch up with series we've been following. Jim Napier reports that Peter James's fourteenth Roy Grace police procedural, DEAD IF YOU DON'T, is impeccably researched and grippingly plotted, as we have come to expect from this author. There's no sign that Grace is about to retire, but Frieda Klein's career comes to an end in Nicci French's DAY OF THE DEAD. Lourdes Venard observes that this is a series that must be read in order and she is pleased to report that the finale is both strong and satisfying. Another series entry set in Britain is SALT LANE, by William Shaw, which continues the bird-watching interest of the previous novel but reflects that the salt marsh in which it is set is not only a home to migratory birds but a place where desperate human migrants often wash up, refugees who are both reviled and exploited. It is, days Barbara Fister, a "fascinating setting for contemporary crimes."

David Rosenfelt loves dogs and the cover of his current Andy Carpenter mystery, RESCUED, has an awful lot of them, just to be sure you know it. Caryn St Clair remarks that this series constitutes a sub-genre of its own - the dog lovers' courtroom drama/legal thriller. But she also says that even if you don't like dogs that much, there is a lot here to entertain. Caryn also reviews the fourth Sam Clair mystery series, A HOWL OF WOLVES, which, despite the title, does not take place in the wilderness but in London. Caryn reports that this works equally well as part of a series that combines detection and an insider's view of the publishing industry, or as a stand-alone. THE MARMALADE MURDERS, by Elizabeth J. Duncan is set in Wales. It is the ninth in the series and PJ Coldren says that the author knows just what she is doing and does it very well indeed.

STILL WATER, by Amy Stuart, deals with a shelter for abused women called High River, set in an appropriately unidentified rural setting. But Diana Borse found it difficult to care enough about the cast of women characters who were so troubled and disturbed.

Ruth Castleberry quite enjoyed FEAR ON FOUR PAWS by Clea Simon. This series features a protagonist who can communicate with animals and Ruth found their exchanges convincing and entertaining. She was less positive about MURDER TO THE METAL, by Annie Hogsett, which she thought did not live up to the potential of its initial premise.

Our guest in the Sixty Seconds With...corner today is Priscilla Royal, who writes the Medieval Mystery series. Find out about her in the box over to your left.

Would you like more news about British crime? Then visit CRIMEREVIEW.

We'll be back at the end of August with more suggestions about what to read and (now and then) what to avoid. In the meantime, please have a delightful summer, stay cool, and read in the shade. Do drop us a line if you have something you think we should hear.

Best,

Yvonne

ymk@reviewingtheevidence.com






P.S. If you wish to submit a book for review, please check here before contacting us. Please note that we do not review self-published books.


Our mascot and masthead is Smokey the Cat. Smokey the cat went to the great playground in the sky on April 29, 2008, at 3:30 p.m. He was about 13 years old, had diabetes and only 11 teeth left. He is much happier now. He will remain as our masthead and mascot.
---
Recent Reviews:
---
We have thousands of reviews archived on this site. Use the form below to search by title, author's name, or keyword (e.g., noir, cozy, PI, female, thriller, gay, cats).

QUICK SEARCH:



PLEASE READ BEFORE ASKING US TO REVIEW A BOOK




Publishers or authors wishing to submit books for review should contact the editor. Please note, before approaching us, that the publishing house must be a print publisher, pay advances and issue royalty statements, edit books, create covers, neither solicit nor accept financial payments from its authors, never copyright an author's title under the publisher's name, and never expect or ask authors to buy a certain number of copies of the author's books. As a general rule we will only consider books for review which have been published by publishers listed on the Mystery Writers of America approved list. We can never guarantee that a review will appear. And our reviewers are given a free rein to express their opinions constructively and honestly.

Please note that we review crime fiction and selected science fiction and horror. We have a policy of not accepting any religious books—and that includes religious crime fiction. We are unable to review any ebooks, unbound galleys, PODs, or PDF files or self-published work.


OUR REVIEWING PRINCIPLES
Since RTE first appeared, some twelve years ago, the business of books has changed out of all recognition. Then, books were reviewed in the print media for the most part, though Amazon was encouraging readers to post their reviews of the books they read. Now, newspapers across North America have reduced or eliminated the space they allot to books and, with certain notable exceptions, only best-selling authors are likely to get noticed. As a result, electronic reviewing has become increasingly important and, due to the somewhat slippery question of online authorship, occasionally problematic.

For this reason and in view of a recent article in the NY Times detailing a reviews-for-hire enterprise, it's probably wise for RTE to reiterate its position on reviewing. While our reviewers receive galleys, ARCs, or finished copies of books for review, they are otherwise unpaid. Furthermore, they are asked to disclose any special interest they might have in a book or an author they are reviewing. No one, including the editors, receives any compensation for the work they do. All our reviewers are encouraged to express their honest opinions, whether positive or negative, about the books they are reviewing. None of our reviewers uses a pseudonym and all are who they say they are. Nor do we employ rating systems (stars, grades, "highly recommended," or the like) in the belief that our reviews deserve to be read in their entirety. Since RTE does not review self-published or digital-only releases, we are perhaps less vulnerable to offers to pay for reviews, but it seems a good idea to make our policy clear. Finally, in the years that I've been editing RTE, I have never once been approached by a press or a publicist to violate this principle in any way.



Contact: Yvonne Klein (ymk@reviewingtheevidence.com)
---
[ Home | About | Reviews | Search | Submit | Links | Cons ]