September 5, 2003
Meet Marianne at Baker Street to take the bus from London to Oxford. Arrive in time for lunch..roast chicken and fried potatoes. Lovely. Free afternoon to walk into town, see the sights, and shop. Back in time for reception. Which was supposed to be indoors, but everyone seemed to move outdoors, to the bank of the river, where we could watch the swans...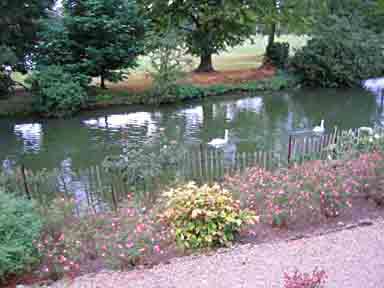 ...and catch up on things since last seeing everyone.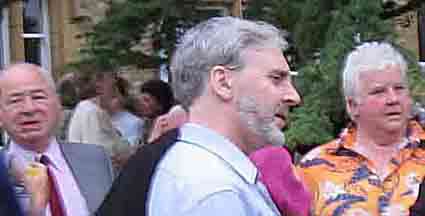 (left to right: Colin Dexter, Stephen Booth, Val McDermid)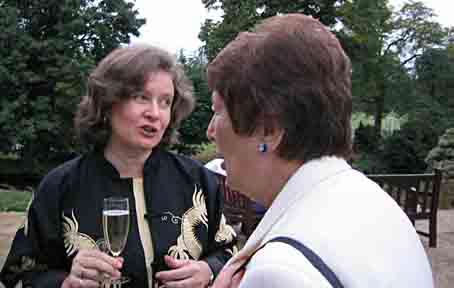 Natasha Cooper, Chair of the event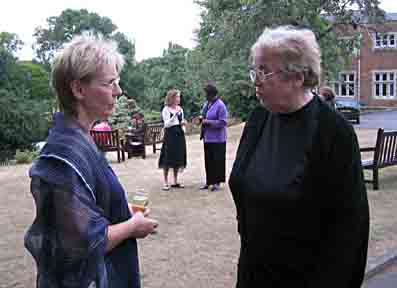 (Left to right) Michelle Spring, Leslie Forbes, Ayo Onatade, Marianne Macdonald). Then dinner, baked salmon, and after dinner, Colin Dexter told some anecdotes. And off to the senior common room for more hilarity.
Saturday, Sep 5.
Breakfast (full English, bacon, sausage, eggs, beans, fried bread, toast).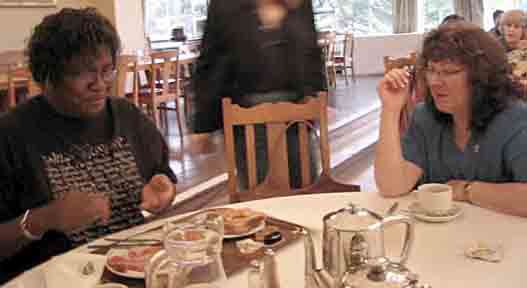 Ayo and Lizzie Hayes at breakfast Welcome by Kate Charles. Simon Brett & The Detection Club followed by Bob Barnard on Margery Allingham.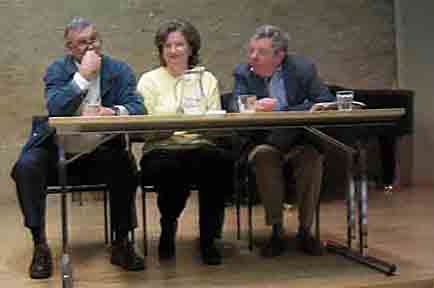 (Simon Brett, Natasha Cooper, Robert Barnard)
Coffee break (in case you didn't have enough at breakfast). Jill Paton Walsh on Dorothy Sayers and Andrew Taylor on Josephine Tey.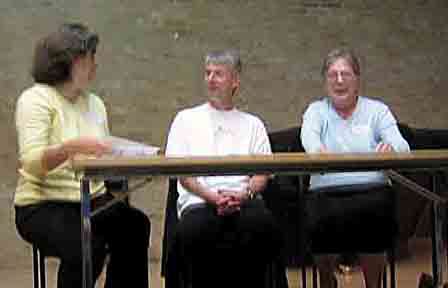 (Natasha, Andrew Taylor, Jill Paton Walsh)
Lunch (buffet style, cold cuts, salads, etc) Marcia Talley on Women Mystery Writers of the 50s and 60s and Michelle Spring on Raymond Chandler. Then a tea break followed by Gillian Linscott on Edmund Crispin and Michael Innes and Keith Miles/Edward Marston on Ellis Peters. Signing and Dinner: Speaker Leslie Forbes.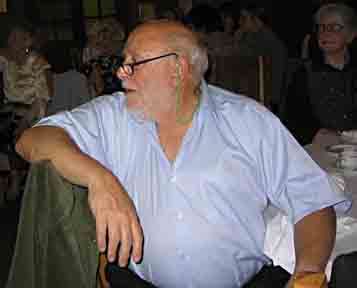 (Bill Gottfried, Co-chair of LCC 2003 at Monterey California, listening to Leslie Forbes)
(Dinner was Duck a l'Orange). And on to the Senior Common room for the get-together sponsored by Mystery Women (thank you Lizzie Hayes and Ayo and everyone else involved).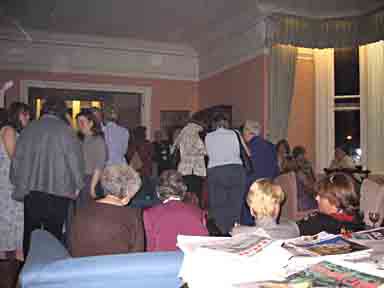 (Mystery women reception in the Senior Common Room)


Left to right Amanda, Lucy Davin's Mike, Lucy Davin, Steve Booth, Val McDermid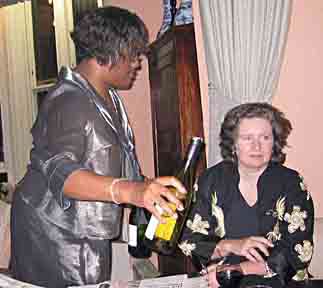 (Ayo and Natasha)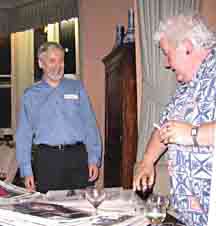 Steve Booth and Val McDermid
Sunday 7 September
Breakfast. Another full English with tomatoes instead of beans. Free time, listed in the program as Church, Tour Oxford, Punt. I packed. Some punted. More later. Then Coffee and Val McDermid and Panel: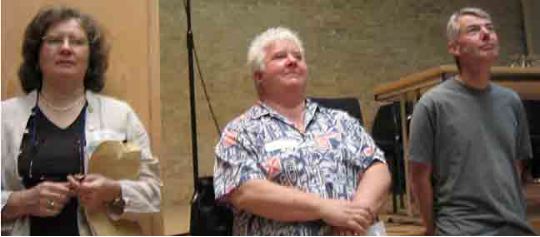 (Natasha, Val, Andrew) New Directions; Before the panel, Gillian Linscott gave prizes for the punt race winners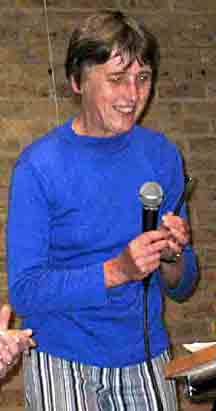 (Gillian Taylor announcing winners)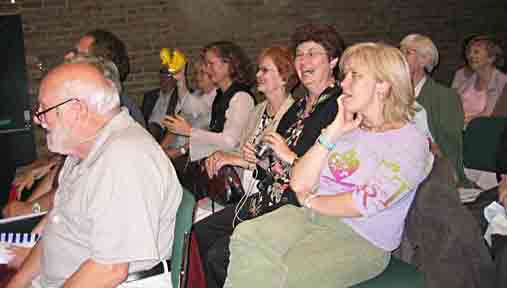 (Audience with Leslie Forbes holding her punting prize)
Lunch: Traditional English Sunday Dinner: Roast Beef and Yorkshire Pud; and then the final panel The New Authors: Jo Hines, Christine Poulson, Julia Spencer-Fleming, and Stephen Booth.



(Hines, Poulson, Booth)
Tea and goodbyes. But Marianne and I raced to get on a bus to London before the traffic into town got too intense. A great weekend. Next year, the conference will be held in late August. Go if you can. It's lots of fun and great people.
And some other pics from Sunday...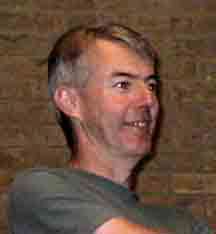 (Andrew Taylor listening to Gillian Linscott awarding prizes)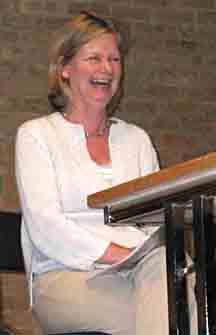 (Joanna Hines laughing at Steven Booth's presentation)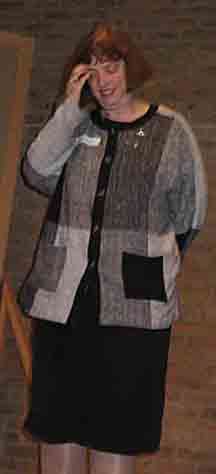 (Kate Charles saying goodbye)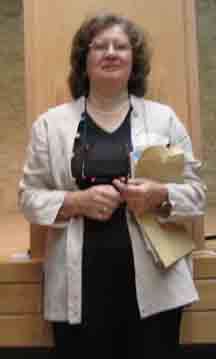 (Natasha Cooper)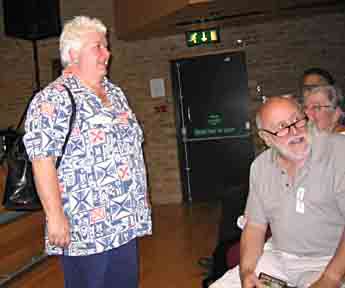 (Val McDermid with Bill and Toby Gottfried, co-chairs of LCC)
Tried to put words and pictures together this time. Not so clever as some of the others who attended the conference. Perhaps someone will take pity and submit a more lucid explanation of the weekend.